Main Toolbar

Import File
Click "Import Images" button to import images file and create a new HTML5 digital publication.
Animation Editor

Click "Animation Editor" to add multimedia elements and other animation to the HTML5 online edition; and you can add interaction to make your publication more dynamic and interactive.
Apply Change

Whenever you modify any setting for the digital publication, you can click "Apply Change" to save the setting.
Publish to Local

If you are a premium user, you can publish the digital edition to your local computer in optional formats. Learn more about Publish.
Manage Online Content

Click the "Click "Manage Online Books" to manage the online books you published to Mobissue Cloud.
Upgrade to Premium
Click the shopping cart icon to upgrade your free account to Mobissue premium edition.
View on Mobile
Click "How to preview in mobile" and you will see the window as below, which shows you Message tips on how to preview the digital content on mobile.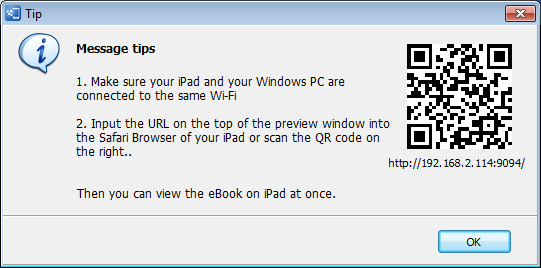 Click "(192.168.2.114:9094/)" and you can view the Mobissue demo in your browser.